Products For Hyperpigmentation
Hyperpigmentation, also known as dark spots, occurs when the skin produces more melanin, the pigment that gives skin its colour.  Pigmentation issues can arise through sun exposure, hormonal changes, age and a range of other contributory factors. Hyperpigmentation can affect your face and body, and appear as dark patches or spots on your skin. With the help of experts, we have created a range of lotions, moisturisers and serums that can be used to treat your concerns. Our range includes the
Skin Radiant Corrective Complexion Lotion
which is a formula designed to help treat skin discolouration such as hyperpigmentation, dark spots, melasma, and blemishes. It also helps prevent the skin from producing excessive melanin. Our
Skin Radiant Corrective Complexion Moisturiser
, which is another product from our hyperpigmentation range helps treat skin discolouration, in areas that are difficult to tone such as; elbows, buttocks, and knees. Browse our full range to treat hyperpigmentation, dark spots, and uneven skin tones.
Featured

Price, low to high

Price, high to low

Alphabetically, A-Z

Alphabetically, Z-A

Date, old to new

Date, new to old

Best Selling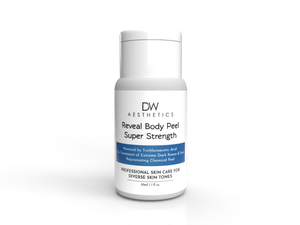 Sold Out

Reveal Body Peel - Super Strength
30ml/1 fl oz. Powered by Trichloroacetic Acid For Treatment of Extreme Dark Knees & Feet Rejuvenating Chemical Peel Professional Exfoliation Treatment Reveal Body Peel is specially blended to improve and smooth the texture of the skin resulting in a brighter...
Add to Wish List
FadeBright Moisturiser - 15ml sample
15ml For Normal, Mature & Combination Skin Types Infused with Vitamin C+E, Natural Exfoliator Gently Fades Blemishes Slows Down Signs of Ageing   An excellent moisturiser formulated to brighten, control hyper-pigmentation, clear visible blemishes and ultimately, give you that radiant skin...
Add to Wish List